Since the founding of our firm in 2014, we've helped startups and
established businesses realize their digital visions by producing
specialized mobile and wearable apps. Our expert technical
guidance, business knowledge, and impeccable execution have
gained traction as we have recently been recognized as leading
wearable app developers by Clutch.co.
"It is a pleasure for us to receive this award," said Co-Founder and
CEO Martin Zuniga. "Being recognized as one of the leaders in our field by an institution
as prestigious as Clutch is an honor and a huge validation."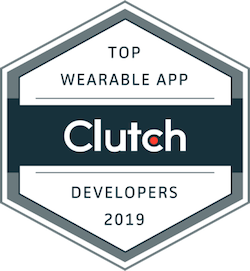 Based in Washington D.C., Clutch is a B2B ratings and reviews platform committed to connecting businesses with the best agency or service provider to tackle their specific needs.
They analyze thousands of firms based on client reviews, services offered, and quality of work. In their unique method, analysts have conversed directly with our clients and gained extensive knowledge about our process of collaborating with startups and businesses alike to create highly functional and user intuitive apps.
Below is one of the numerous client reviews they have collected, allowing potential consumers to understand a project and a clients' experience at a quick glance.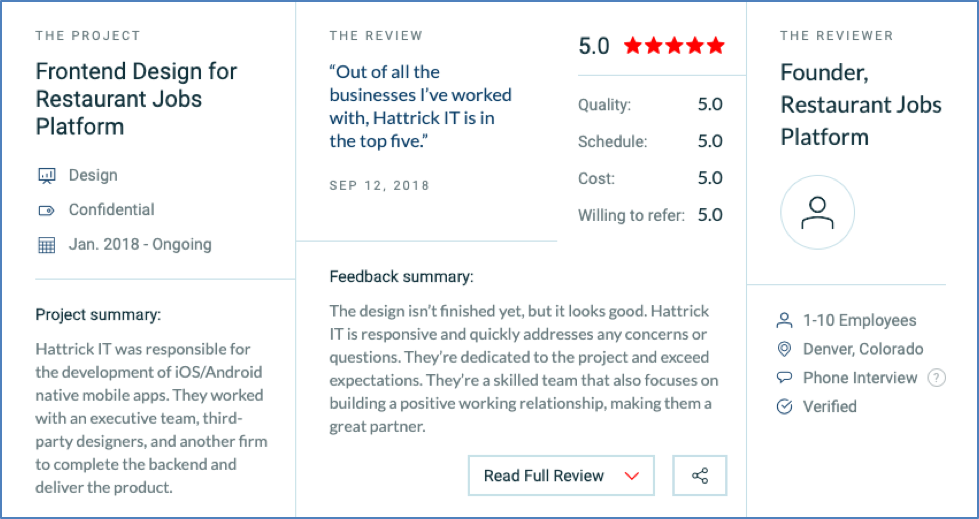 Along with being recognized on Clutch, our success expands to Clutch's sister-sites: The Manifest and Visual Objects. The Manifest publishes industry reports, tech news,and how-to guides to help businesses efficiently find their next partner. Here we are listed as top mobile app developers.
Likewise, we are listed as top app developers on Visual Objects. The site is a portfolio platform designed to help prospective clients
envision a future project before hiring a firm.
Without our amazing clients, we would not have been recognized by Clutch for our success in developing extraordinary wearables. While this is only the start, we still have lots to keep learning. We look forward to continuing helping startups and established companies realize their digital concepts!
You can learn more about Hattrick and what we do here.