The term femtech is used to shine a light on the reality that there have been few innovations in women's healthcare when compared to men's. Over the past decade or so, health related products and services tailored to the female consumer have been on the rise. This market has, for the most part, been historically underserved with little research and funding being invested into women's health.

Nowadays there has been an increase in innovation in this market, companies are  incorporating tech and creating new ways to solve big issues such as menopause, endometriosis, heavy periods, and other health problems centered around women. There are numerous femtech companies that we will go over.

In this post we will cover:

What is femtech
Categories that make up femtech
Femtech market trends
Top femtech companies to follow

What is femtech?

Men's and women's bodies are inherently different. These biological differences influence bodily functions and organs and therefore affect diagnoses, disease prevention and treatments. Taking into account the fact that women are more than often the caretakers in their family unit, having better outcomes in women's health also has a cascading benefit for other groups such as the elderly and children. Bettering women's health, in a sense, contributes significantly towards a stronger, healthier society.

The term femtech is a mix of female and technology and is the use of tech to empower women's health and wellbeing. It is usually applied to services, products, applications and software, wearables, medical devices, hardware, digital platforms, and other consumer products designed to support women's health. Femtech is a term that was coined by the founder of Clue in 2016, a period and ovulation tracking app. Since then, many other applications and tech companies have surfaced to address issues in women's health.

The healthcare market is one of the fastest growing sectors in the economy. Products and services related to women's health have seen an explosion. Ranging from women oriented medications to devices and diagnostic testing, women's health is actually big business. This category includes an extensive range of applications and names. Femtech engulfs a scope larger than most people realize. It envelopes everything from women's hygiene products to fertility and pregnancy tracking apps, treatment of urinary incontinence (UI), contraception monitoring, breast pumps, and even tech used to screen for breast cancer. This includes things such as connected medical devices, wearables, mobile applications and sanitary products.

What we know as modern medicine was constructed with the male physiology in mind. A predisposition to the male body type can be clearly seen in diagnosis, medical training, and treatment paths, which has inadvertently influenced how physicians and scientists understand the human body. This bias makes it harder to diagnose and treat women. For example, ingestion, nausea and general discomfort might typically suggest heartburn except for the fact that women experience these symptoms in the event of a heart attack. For a long time women have been underrepresented in the study, diagnosis, and treatment of clinical trials.
Categories that make up femtech

In order to know what trends in femtech are on the rise and what to watch out for we first need to understand not only what femtech is but what it consists of.

Women's health is actually much more than just the reproduction aspect. Defining the term femtech can be challenging because while some consider beauty and skincare products as part of the industry, the global view is to only categorize femtech startups as those whose products and services address a health/medical issue. The definition of femtech actually takes a very broad approach. When we think about women's health, we include both female specific conditions, which can be tied to women's reproduction or another facet of women's biology, and general health conditions that can affect women differently or disproportionately  because of their biology.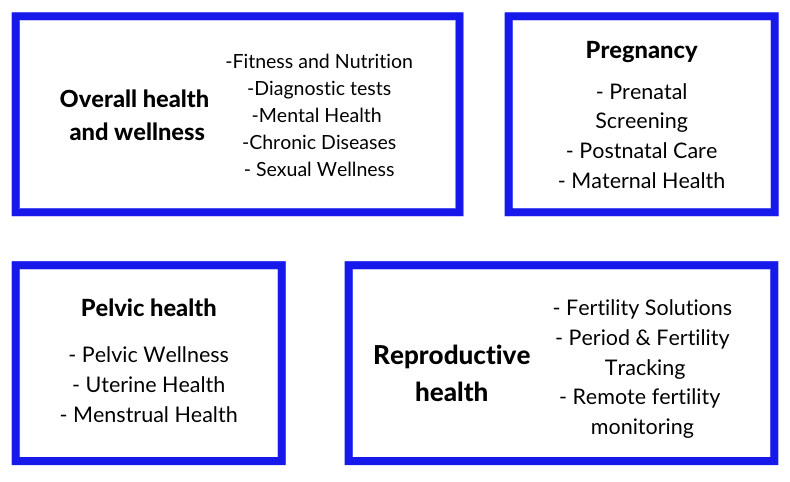 Some of the different areas are:

Fertility & Birth Control
Menstruation & Period Care
Pelvic Health
Menopause
Sexual Wellness
Chronic Conditions & Hormonal Disorders
General Healthcare
Pregnancy & Postpartum
Breast Feeding

There are a vast amount of products in all of these areas of women's health and they can fall into different categories such as:

Healthcare software
Consumer services
Medical devices
Consumer applications
Consumer products
Digital therapeutics (DTx)

Consumer products can include a wide range of devices addressing reproductive and sexual health along with software and mobile applications for women's wellness and wellbeing, pregnancy, nursing care and menstrual health. All of the different types of products are different and are regulated differently. For some it's necessary to have a doctor's prescription in order to download them, others are able to be freely downloaded by the consumer. Some products, because of their nature, require them to be HIPAA compliant, while others don't share sensitive information and aren't required to be compliant.  

How do I know if a product should be HIPAA compliant? You must ask yourself the following:
Will the application be used by some covered entity such as a physician, hospital or a healthcare insurance provider? Does it contain protected health information (PHI) such as: name, address, phone number, account number, or other? To read in depth about the subject you can check out our post on HIPAA Compliance.

Femtech market trends

Venture capital funding in femtech brands is growing. According to a study done by McKinsey, femtech startups have raised, globally, $2.5 billion in the last quarter of 2021. This number is up three times from the amount raised in 2020. The main categories in the femtech market that have received the most funding are primary care, pregnancy and parenthood, and fertility support.

The femtech market has been maturing and there has been an increased number of money invested in funding rounds. At an overall level, venture capital investment in femtech brands has grown exponentially. In 2021 global venture capital investments have actually surpassed $1 billion for the first time ever. The fact that male VCs usually hesitate to invest in femtech brands likely has to do with cultural taboos around women's bodies. Even though cultural standards around gender are starting to evolve, it's evident that some men still prefer not to discuss topics related to UTIs, childbirth, menstruation, pregnancy, or menopause. This is the reason why it's important to have open conversations and to encourage the support and investment in women's health.
Top femtech companies to follow

There are many femtech companies and femtech brands to look out for if you're interested in the industry. Below we name the ones that are building innovative products in this industry and have been making some big moves lately.

Flo Health
Their mobile app was ranked as the number one women's health app worldwide. Flo helps people who menstruate harness the power of their body signals so they can stay well and live better. They have over 100 health and wellbeing experts to help you know yourself from the inside out and provide the tools you need to advocate for your health. You can also access courses, dialogs and personalized health insights to learn how your cycle affects your body and wellbeing. Their latest funding consisted of a $50 million Series B.

Maven
Maven is a 24/7 virtual clinic that helps with planning and raising a family. Whether you're struggling with breastfeeding, looking for birth control advice, considering adoption, or dealing with tantrums, Maven is there for you. They have same day appointments, care navigation, daily tips and virtual classes, and community support. Their latest funding consisted of a $110 million Series D.

Modern Fertility
They're a reproductive health company making personalized fertility information and support more accessible. Their fertility essentials (which include at home tests and tools) help people find power in their fertility info and get proactive about their reproductive health. Their latest funding news consists of being acquired by Ro for $225 million.

Elvie
They have a variety of products including the Elvie Pump and Elvie Stride, wearable breast pumps, and the Elvie Trainer, which is the holy grail of Kegel training. The award-winning Elvie Trainer helps women build strength to support everything from bladder control to faster postnatal recovery. Their latest funding consisted of a $97 million Series C.

Illumigyn
This is a remote gynecological screening platform. Using a novel technology that they developed, the gynescope system creates high-resolution digital images with superior magnification that can improve diagnostic accuracy. The images from the screening are later uploaded to the cloud so the doctor can view and analyze them. The patient also has more control and a close view of the procedure, they receive immediate access to a second opinion by an AI Clinical Decision Support Software, without the need to undergo another procedure. Their latest funding consists of $33 million.

Emme
Their product is a smart birth control pill box. Paired with their mobile app, the smart case helps you track the pills you take (or don't take) and sends custom reminders based on the user's unique habits. The box fits rectangular blister packs that contain combination or progestin only pills. It allows users to track their flow, body, and mood. They can also anticipate when they are more likely to experience cramps, migraines, or other symptoms. Their latest funding news consists of being acquired by SimpleHealth.

Natural Cycles
This is the first FDA cleared birth control app. How does it work? The app is actually powered by an algorithm that helps to determine your fertility status based on your basal body temperature. You have to measure your temperature with a NC° thermometer and enter the information into the app. The algorithm uses your basal temperature, period, and cycle data to verify if that day is green (not fertile) or red (you should use protection). They have recently partnered with smart ring innovator, ŌURA. So you can wear your Oura Ring to bed, and let it measure while you sleep. Later when you wake up, you can check your daily fertility status in the Natural Cycles app.

Ava
The Ava bracelet is a wearable bracelet that provides data-driven support that's proven to help couples get pregnant faster. It's the first FDA cleared fertility tracking wearable. The bracelet is meant to be worn only during sleep and tracks 5 physiological signals, which include pulse rate, breathing rate, sleep, heart rate variability, and temperature. It uses machine learning algorithms to pinpoint from that data the five most fertile days of the menstrual cycle. These are the five best days to try for a baby during your cycle.

Moody Month
The Moody Month app is a daily health and wellness tracker for women. It connects them with solutions to support some of their most common moods and symptoms. They receive information on what's happening in their bodies each day, and it helps them learn how to optimize their wellbeing. They receive daily mood, food and fitness advice. The app also provides daily yoga and mindfulness personalized to each woman's changing hormones.

Carrot Fertility
Carrot assists employers in providing equal access to high quality fertility care. They provide support for all journeys regardless of sex, race, age, income, gender, identity, sexual orientation, marital status, or geographic location. Some of their services include fertility preservation such as egg and sperm freezing, donor and gestational carrier services, IVF, pregnancy, adoption, and menopause and low testosterone.

DotLab
This women's healthcare technology company launched the DotEndo, which is a non-invasive blood test that aids in diagnosing active endometriosis. It does this by measuring biomarkers in the blood which identify active endometriosis. It must be ordered by a healthcare provider in order for the patient to have access to the test.

Bloomlife
This company develops prenatal care solutions that are designed to improve the overall health of mothers and babies. Their product combines a pregnancy specific wearable belt with data analytics to provide doctors with better data to earlier predict and manage pregnancy complications. It also serves to reassure moms about pregnancy related complications.


As we can see these are some of the top femtech companies making some big waves.
The aim of femtech is to truly innovate instead of just rebranding and repositioning already existing products and marking up their prices. Its purpose is to create solutions specifically designed to meet women's health challenges.